imec welcomes Hungarian open call winner
Krisztán Póra from Óbuda University, Hungary kicked off the fall academic season with a site visit to the GPULab in Ghent. Let's have a closer look how he spent his time there!
Written by: Krisztián Póra
At the end of September, I had the pleasure of visiting the imec facility in Belgium. The opportunity was granted to me after submitting a successful project proposal for the second SLICES-SC Open Call. Both the city of Ghent and the Ardoyen campus were a sight to behold. Walking among the modern office buildings of the area, the imec building captures one's attention, as one side of it is completely covered with solar panels.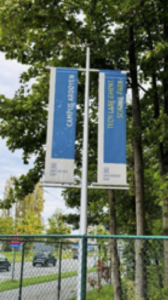 Upon arrival, I got to meet two colleagues from the research institute, namely Brecht Vermeulen and Thijs Walcarius. In our first meeting, we went over the technical and organizational details of the experiment. I was granted an opportunity to view the infrastructure and its server rooms, and other experimental areas. The tour included a closer look at the resources allocated for my experiment. The facility bolsters considerable computational resources, including highly sought-after GPU cards.
What surprised me the most, however, was not the sheer amount of resources, but the incredibly well-thought-out systems and services that the team of imec has built around them in order to provide the researchers with fast and convenient access. Whether you are deploying a digital infrastructure using the visual editing tool of jFed or running compute-heavy jobs on the GPULab platform, you realize that these systems were truly built with the users, who are members of the research community in mind.
During my one-week stay, the colleagues from imec were continuously available to me and provided all the assistance I needed. I felt that they treated my experiment as a top priority and were more than willing to allocate me the resources as I needed them, gave me valuable insight, and even new ideas. I spent my working hours in the IDLab office, which is an excellent environment for members of the scientific community, and home to some of the most current research areas and technologies.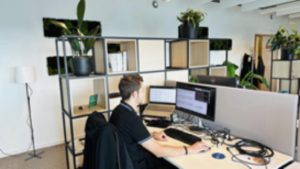 The main goal of my experiment was to execute performance benchmarks of the distributed training of deep residual networks (used in computer vision) in various configurations. The benchmarks were measuring the efficiency of the Horovod distributed deep learning framework in terms of raw performance, GPU and network utilization, and scaling efficiency. In order to measure the scalability of the system, I was granted exclusive access to up to 10 servers and GPU cards.
Thanks to the diverse infrastructure of imec, I was able to execute a large variety of tests, using different servers, GPU cards and even network technologies, allowing me to gain deeper understanding of the distributed deep learning process, along with its challenges and characteristics.